ERP system
Broadly speaking, effective business management encompasses the following main areas:
monitoring business processes, cost optimization, striving for efficiency gains and competitive advantage, as well as increasing gross profit and market share. Finding the right IT solution, the one that supports all processes and is easy to adjust to evolving business demands, is essential.
---
What is an ERP system?
In most companies, various departments make use of various independent programs to handle everyday, routine tasks. Different software is adopted by sales team and customer service and different solutions support warehouse and manufacturing processes. Separate databases collect information from each business area, causing ineffective management and data inconsistency.
Organizations operating without an ERP system face the following problems:
lack of data consistency,
hindered cooperation between departments,
high incidence of errors,
lack of automation of repetitive processes,
rare data synchronization – work based on outdated data,
the need to handle the flow of data between independent solutions.
An ERP system (Enterprise Resource Planning) is a resource planning and management software. The solution operates based on a single database collecting and processing information from all areas of business – e.g., sales and customer service, manufacturing, logistics and warehousing, finance and accounting etc.
The solution covers features necessary to handle all mentioned processes. This means that salespeople, accounting staff and warehouse employees use the same solution, with different permission sets granted. As all data is stored in one location, all users have access to standardized, up-to-date information.
The flow of information between teams and departments is smooth and seamless, as many processes can be performed automatically.
When implementing an ERP system in your organization, instead of adopting separate programs for various departments, you get a solution which allows you to effectively manage your business by organizing, monitoring and optimizing all processes.
If your company struggles with the same challenges, contact one of our ERP experts!
Learn more about the capabilities of an ERP system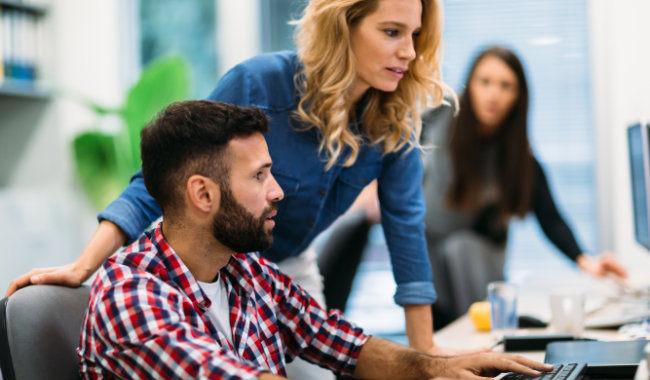 ERP vs. MRP
Modern ERP systems provide advanced features that rely on machine learning and powerful business intelligence tools. However, the heart of today's ERP solutions is MRP (Material Requirements Planning) software, developed after World War II and intended for the management of manufacturing processes. MRP delivers tools to effectively handle product structures, stock levels, as well as ongoing execution of orders and production planning.
With the development of computers, MRP capabilities were expanded and enhanced to ultimately cover all areas of business operation, evolving into ERP software. The systems we are currently working on are ERP 4.0 solutions.
Functionalities within the ERP system
What functionality should we pay close attention to when selecting the ERP software? Obviously, it depends on the company's business profile. First, it is crucial to identify expectations – specific objectives to be achieved through the ERP implementation, as well as key areas of activity, such as production or distribution. Taking this into account, the focus should be placed on functions that are vital for the successful execution of the company's business strategy.
By implementing the ERP system, you can pursue the following objectives:
Improved manufacturing efficiency with cost reductions, automation and adoption of powerful planning tools;
Streamlined finance management – an ERP system can significantly facilitate the execution of repetitive tasks, minimize the risk of errors and provide insight into critical data;
Optimized supply chain and reduced storage costs while ensuring continuous access to products and services, as part of the offer;
Enhanced customer service standards – with the right software you can collect information concerning customers, their purchase history, shopping activities and preferred touch points. That kind of insight helps us gain a better understanding of our customers' needs, provide excellent customer service and build their loyalty.
When is the right time to implement an ERP system?
Before choosing the ERP system, business owners are faced with the question of when is the right time to implement an advanced IT system and how the company can benefit from this investment. Explore the reasons which make companies decide to implement an ERP system.
Organizations use inefficient software
The currently used solutions do not keep pace with the company's growth. What they do is provide support for the processes at a more basic level, thus many actions must be carried out manually. An ERP system is the most advanced and complex software designed to manage small, medium and large businesses.
Manual process handling
If the currently used software prevents or hinders the automation of processes, it is reasonable to take a closer look at the ERP system capabilities. As all data is stored in a single database, the information flow between all business areas is efficient and uninterrupted.
High inventory costs
Resource and material management is one of the greatest challenges in business optimization. On the one hand, it is necessary to ensure that all resources or materials required for production are available. However, their storage costs are often very high. An ERP system, equipped with advanced technologies (e.g. artificial intelligence), can effectively monitor stock levels and forecast future demand.
Poor liquidity management
Cash flow monitoring is the cornerstone of business management. What every company needs is a powerful tool to support financial management and optimal handling of payables and receivables. ERP systems with integrated financial modules will streamline all processes and facilitate the cooperation between financial department and other teams.
Lack of reliable information
Many business management systems fail to collect relevant data and lack effective reporting tools. Key data is stored in multiple databases, making analyses difficult to perform. In companies using ERP systems all data is integrated and processed in a single location, resolving duplication issues. Additionally, they are equipped with reporting and analytical tools.
The company is growing
When the company is growing rapidly, it is advisable to rethink the future structure of the organization and consider implementing an integrated IT system. By implementing an ERP system you foster the development of your business. The tool supports the comprehensive management of the entire organization. As the company's needs evolve, you can extend the ERP software and adjust it to the ever-changing market demands.
Companies have to deal with multiple errors
Management based on inefficient tools leads to chaos and frequent errors. These, in turn, may generate costs and cause a considerable reduction in service quality and customer loss. With an ERP system, you can organize and monitor all processes within the company. This will allow users to identify and limit the problems.
Digital transformation
If digital transformation is part of the company's development strategy, ERP system implementation will definitely streamline the process.
How much does the ERP system cost?
The overall cost of an ERP system depends on a number of factors – individual needs of your business. The valuation takes into account some fixed components but requires a more detailed analysis as well. Small businesses decide to implement core system functionality without developing it further, creating extensive databases or installing additional features and external modules. In such a case, they don't have to invest heavily in the IT infrastructure. However, for bigger organizations, implementing an ERP software in all business areas may take several months and entail higher costs.
What determines the cost of an ERP system?
The price of an ERP software license
The cost of license is relatively easy to determine at the very beginning of the valuation procedure. Currently, the ERP software is available in several licensing models and the choice of the right variant depends on the number of users. For the largest companies, the most profitable investment is the purchase of license (subscription or perpetual) for unlimited number of users. With the perpetual licensing model, the initial investment cost is high, but there are no further fixed costs, as with the monthly fee. However, not every organization can afford it.
The monthly payment is frequently chosen by organizations with insufficient funds to finance such a costly investment. The monthly-paid license enables customers to choose a specific number of licenses, for each named user. It is the most popular option among small and medium company owners. With a small number of users it is more profitable to choose this licensing model. The initial costs can be reduced and monthly fees depend on the number of users within the organization. As the company evolves, the number of purchased licenses can be increased.
ERP system implementation
The purchase of license itself is just the beginning. The ERP software is implemented by the solution provider – the manufacturer or the implementation partner. The ERP implementation project must include the following stages:
Diagnosing needs and selecting the relevant ERP system version (functionality and license) – traditional (on-premises), hybrid or cloud-based,
Analyzing business processes within the organization and defining the implementation scope,
System deployment,
Adjusting the functionality to specific business needs that were identified at earlier stages,
Testing the system with users, user training, data migration and system go-live,
Software implementation audit.
For successful implementation, it is crucial to carry out a comprehensive and reliable analysis. Based on its results, further steps can be planned. Failures often result from analysis errors, that's way it may take several weeks or months to perform it thoroughly.
The implementation price is the most difficult ERP project component to estimate. At the outset of the project, the cost is hard to determine as further analysis may indicate that the actual business needs differ from the initial project assumptions or they may change during the lifetime of the project.
To properly define the implementation scope and its valuation, effective communication between implementation team on the solution provider's part and decision makers on the end user's part is a must. The two-way information flow and trust are the key to successful implementation.
The functionality scope
ERP systems have various versions, depending on the selected functionality scope. They can be divided into modules suited for specific operation areas (e.g., finance, production, etc.), but they are also available in simplified models – basic and advanced. The more features the company needs, the higher the final cost is.
IT infrastructure
The software must be installed on the company's servers or in the public cloud. Depending on the chosen option, costs and spreading the investment over time will vary. The organization willing to use their own IT resources must build or develop the existing IT infrastructure and adjust it to the requirements of the ERP installation. High initial costs are not the end of the story. In addition, the company has to hire experts responsible for supporting and maintaining the server room.
Cloud computing, the second option, is gaining more and more popularity. ERP software can be installed on hosted, external IT resources. In such a case, the company does not need to have their own servers, but pays a monthly fee for consumed resources. ERP systems can be also purchased in the software as a service (SaaS) model.
Post-implementation support
After completing the ERP implementation project, the provision of post-deployment support services is essential. It is a separate cost that must be taken into account when choosing the relevant IT solution.
Post-implementation support includes the following services:
software updates,
enhancing the system with new features,
ensuring compliance with legal regulations.
An ERP system in the cloud or on premises?
It is a common dilemma for business owners who are faced with a choice of the most suitable IT system for their organization. Despite the growing availability of cloud-based solutions, many company owners are still skeptical about cloud computing. The main concern is the loss of control over data. Cloud service providers and SaaS software producers make efforts to slowly and effectively acquire new customers by building their loyalty and trust. What factors should be taken into account when considering on-premises or cloud-based ERP implementation?
Maintenance costs
ERP installation requires investment in the construction of a server room and its maintenance. It is essential to recruit a team of technical support specialists to efficiently manage and develop the infrastructure. For the largest companies, it is often the most cost-effective option. For companies from the SME sector it is not profitable, as they often prefer to rely on resources hosted by external service providers.
Scalability and customization
Scalability is a key driver in selecting the cloud-based solution. Business owners are able to increase or decrease used resources, depending on current requirements. This is particularly useful in seasonal industries, such as e-commerce or retail chains observing boosted foot traffic during the pre-Christmas period. With the traditional model, organizations bear the costs related to the maintenance of the server room, even if its capacity is not fully used. The company's growth or a sudden increased demand for resources means that more funds must be invested in the infrastructure expansion, which is expensive and time-consuming.
Data security
The need to ensure data security and convince customers that their data is safe is one of the main challenges cloud solution providers are faced with. They make huge investments in protecting businesses from cyber attacks. Cloud computing mechanisms perform backups to prevent data loss.
Is ERP worth the investment?
An ERP system implementation is a costly investment and company's needs must be thoroughly analyzed before any decision is taken. When making the final decision, business owners have to take into account the non-obvious cost of lost profits resulting from the lack of a powerful IT system that would facilitate the digital transformation.
Benefits gained from implementing an ERP:
The impact of the development of technology on the ERP software market
The development of the entire IT industry is of significant importance for the development of IT systems. The emergence of more and more advanced manufacturing machinery is followed by a growing demand for IT software designed to support it. Many of the major ERP market trends have evolved over the past few years. These are the directions of the development software providers and end users should be aware of.
Digital transformation
Digital technologies are becoming ubiquitous and have been changing the world of business for years now. The need to collect and process massive amounts of data drives the adjustment of modern IT systems struggling to maintain their market position and striving for further growth.
Business owners decide to implement an ERP system to improve the efficiency of company's operations. What they need is a solution that would allow them to organize, monitor and streamline all processes based on reliable data. State-of-the-art ERP systems are increasingly proving their worth with their innovative technologies.
Artificial intelligence in an ERP solution
Artificial intelligence in ERP systems is used to process huge amounts of data. Based on historical data, you can perform predictive analyses, such as sales forecasts and materials and goods demand forecasts. In addition, with AI-based solutions, you can identify customer's needs and expectations, support the effective liquidity management, monitor production downtime and predict failures.
Cloud computing
Cloud-based solutions are rapidly gaining in popularity and they are being used increasingly in business management. Software as a service (SaaS) is the most common software distribution model. Cloud-based ERP systems appeal especially to small and medium businesses. For them, the SaaS model became profitable.
Benefits of the ERP system in the cloud:
Greater license flexibility – software subscription,
Reducing costs related to the maintenance of the IT infrastructure and employing experts responsible for its management,
Low failure rate,
Shorter implementation time.
Get more insight into ERP Microsoft Dynamics 365 Business Central
Microsoft Dynamics 365 Business Central (formerly Dynamics NAV) is a comprehensive ERP system that fits into the 4.0 revolution trends. The solution allows integration of all business areas, facilitates the digital transformation and provides access to innovative tools, such as artificial intelligence, machine learning, business analytics and data virtualization.
Initially, the ERP system was named Navision. In 2003 the name was changed to Dynamics NAV by its producer, Microsoft. In April 2018, Microsoft Dynamics 365 Business Central – the newest Dynamics NAV release was introduced into the market.
Rebranding was part of the Microsoft's strategy – One Microsoft. The main objective of Microsoft is to integrate all business solutions and ensure their integrity with third party solutions.
Microsoft Dynamics 365 Business Central
The evolution to digital transformation
The functionality of Dynamics 365 Business Central
Microsoft Dynamics 365 Business Central is available in two licensing models – Essentials or Premium. Both models differ with regard to the basic features.
Business Central Essentials license includes:
Finance
Sales
Purchase
Warehouse
CRM
Projects
HR
Business Central Premium license includes:
All Business Central Essentials features
Manufacturing
Service
Explore all Dynamics 365 Business Central features.
Extending the ERP functionality
ERP Microsoft Dynamics 365 Business Central is highly customizable and open to configuration. You can easily add new features and integrate them with Microsoft tools developed by Microsoft Partners, as needed. End users can get new possibilities for process optimization, which has a great impact on work efficiency and automation. Discover Microsoft Power Platform tools.
AppSource
The platform provides access to cloud-based solutions developed by Microsoft Partners. Each Partner is allowed to publish their own applications and reach a wide range of customers. This way, you can easily acquire reliable tools to support industry-specific processes.
Power BI
Business intelligence technologies facilitate advanced data analyses, virtualization and powerful reporting. The board of management is capable of making effective business decisions if the decision-making process is based on easy-to-interpret data.
Power Apps
It is a low-code platform allowing Dynamics 365 Business Central users to create simple applications with no programming skills required.
Power Automate
It is a tool supporting automation processes that enables ERP system users to create workflows.
Extensions
In the latest Microsoft Dynamics 365 Business Central version, the ability to modify code has been blocked. Additional features can be installed via the so-called extensions. This facilitates the modification management.
Connect Apps
An ERP system is open to integration with third party solutions via flexible API.
Dynamics 365 Business Central – license
ERP Dynamics 365 Business Central is available for purchase in several distribution models – traditional, hybrid or cloud-based (SaaS). Currently, cloud-based solutions are becoming more and more widespread especially among small and mid-sized companies. In the past, costs of cloud computing were a financial barrier they couldn't overcome.
When choosing an ERP system in the cloud, you can reduce costs related to:
investment in your own IT infrastructure and its maintenance,
employment of IT specialists to support it,
repairs and failure rates,
lack of flexible resource scaling.
Why is cloud-based Dynamics 365 Business Central the right choice?
Data security in Microsoft Azure
Access to the system from any device supporting a web browser
Infrastructure tailored to the needs of the business
Scalability and customization
Ability to increase or decrease the number of purchased licenses
Automatic ERP system updates